I had decided to get to some much needed weeding on September 13 (in the rain,) but got back on the beach Thursday.
For my birthday, a friend gave me an unusual sand mold (that reminded me of the Sydney Opera House.) It was a challenge! This is what I came up with.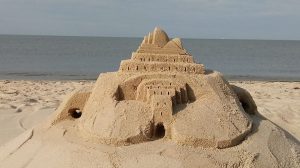 I wished I had built a traditional castle, when I had a visit from Diana, a 3 year old, who came with her mom, Tanya. Diana came, with a gift of a speckled crab shell for me! I hope to build a castle that Diana will like today.